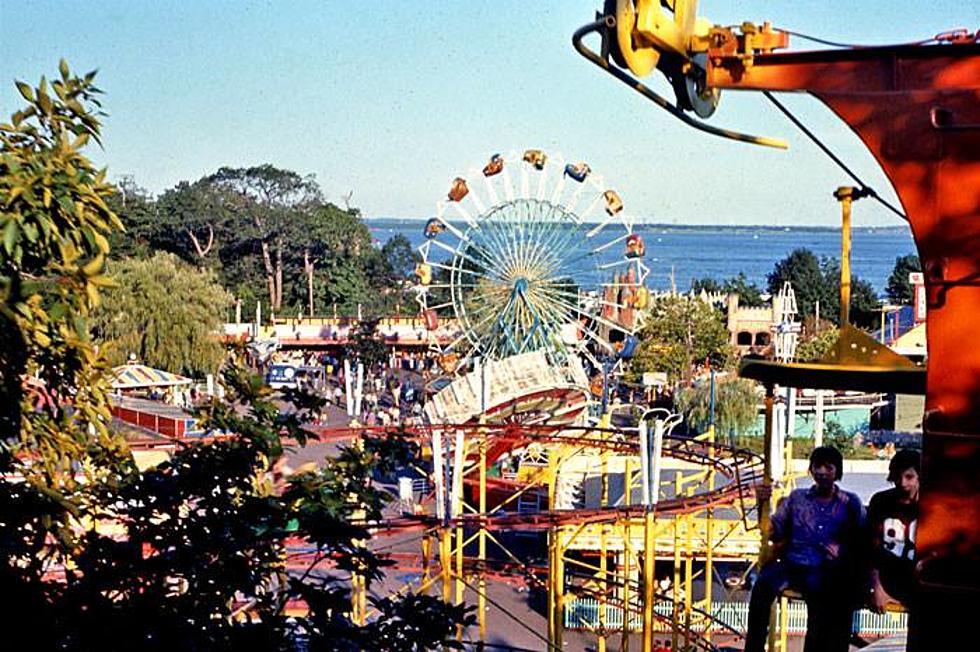 See Warwick's Rocky Point Park in All Its 1970s Glory
Rocky Point Park via Facebook
Warwick's beloved Rocky Point Park may have been gone for decades now, but we can still relive the Rhode Island amusement park's glory days through the magic of YouTube.
A video posted by George LaCross features photos taken of the park in 1974 by Mark Thompson, set to a true '70s prog rock classic: Emerson, Lake & Palmer's version of the Peter Gunn theme.
Some of the classic rides seen in the photos include the iconic House of Horrors, the Round-Up, the Ferris wheel (and the one with the spinning cages) and the log flume.
A few of the photos appear to have been taken from the Skyliner ride that gave you an elevated view across the park.
As a bonus, you also get to see lots of great 1970s fashions in the photos (is that Greg Brady standing up at 36 seconds in?) and some classic '70s hairstyles as well.
So much history was made at Rocky Point in its nearly 150-year history, including it being the site of the first presidential phone call, but it's the average summer day at the park depicted in these photos that really was its true draw for a century and a half.
Of all the sites seen in the video, only a few pieces such as the arch, the base of the Skyliner, and the tower of the circle swing are still standing, now incorporated into the open green space that has replaced the park.
You can see some views of the modern-day Rocky Point, shot by LaCross, interspersed with Thompson's vintage photos.
Notably absent from the photos is the Rocky Point Shore Dinner Hall, which was a major draw for many of the folks who came to the park.
Of course, we can't write about Rocky Point without sharing our absolutely favorite RP YouTube video of all time:
But did you know there is actually an extended version of that classic jingle?
You're welcome.
Vintage Food Tickets for Sale From Warwick's Rocky Point Park
As much as everyone loved visiting Rocky Point Park in Warwick, Rhode Island for its fun rides and amusements, the food was also a major draw as well. From clam cakes and Manhattan clam chowder to complete shore dinners featuring steamed lobsters, you can still close your eyes and smell the deliciousness. We checked out some eBay ticket auctions for snacks gone by to remember Rocky Point's menu items.
See New England Theme Parks Covered in Snow
Winter isn't over yet in New England and your favorite theme parks are clearly not quite ready for you. See how some of your favorite spring and summer rides look covered in fluffy, white snow
More From WFHN-FM/FUN 107