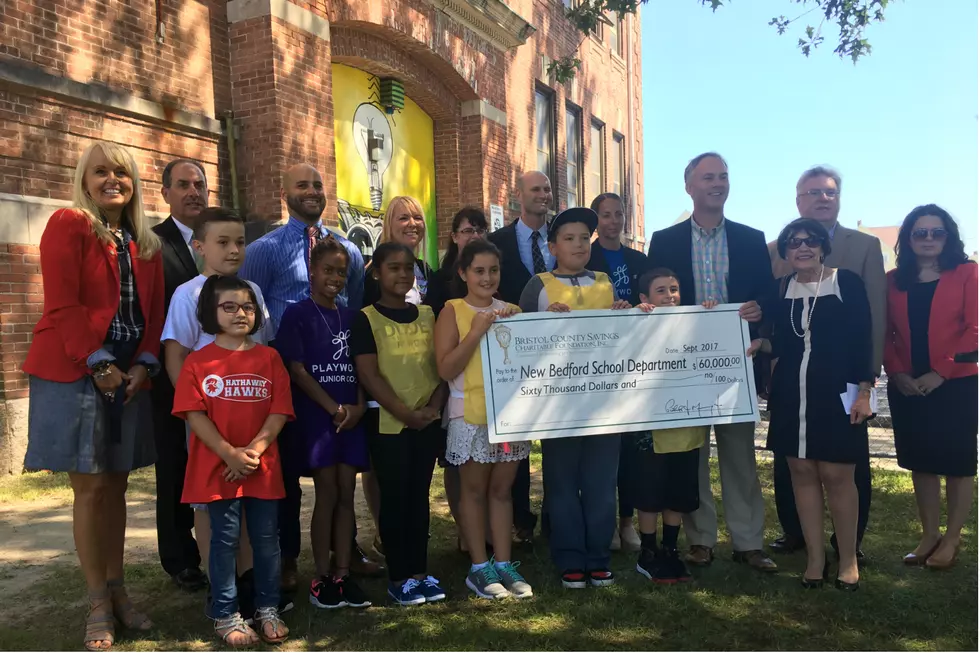 Social Skills Program in New Bedford Elementary Schools Receives Key Funding
Tim Dunn/Townsquare Media
NEW BEDFORD — Bristol County Savings Bank is continuing its work with four New Bedford elementary schools.
In a ceremony at Congdon Elementary School Friday, the Bristol County Savings Charitable Foundation donated $60,000 to the New Bedford School Department to continue funding the "Play Works" program, which encourages school staff and students to work together to teach social and emotional skills at recess and in the classroom.
Congdon, DeValles, Hathaway, and the soon-to-be-completed Irwin Jacobs elementary schools are the schools currently taking part in the program, although Mayor Jon Mitchell said he like to see the program expand to other schools as well.
"We're getting positive feedback from the teachers and the schools that are involved in the program. So it'd be something we'd like to ramp up if the success continues," he said.
The program aims to create leaders out of students, by teaching them how to resolve social conflicts among their peers to create a more effective learning environment.
"This initiative...is inclusive play around recess, which in turn serves as a mobilizing factor to create a safer, calmer, and more productive learning environment throughout the entire school day," Bank President and CEO Patrick Murray said. "And who could argue with that?"
If not for the donation from the bank, the program might not have been able to continue.
"We were very concerned that we would not be able to continue the program, and we're thrilled that Bristol County Savings Bank stepped up," said New Bedford Superintendent of Schools Dr. Pia Durkin. "(The donation) will help the program moving forward."
Murray said it's just one of the many ways Bristol County Savings Bank helps SouthCoast communities.
"We don't have any stockholders," he explained "So the amount of money we make every single year that typically might be distributed to shareholders, or stockholders, or stock institutions, we don't have to do that. We really treat the community as our stakeholder, and we love to give back."
More From WFHN-FM/FUN 107