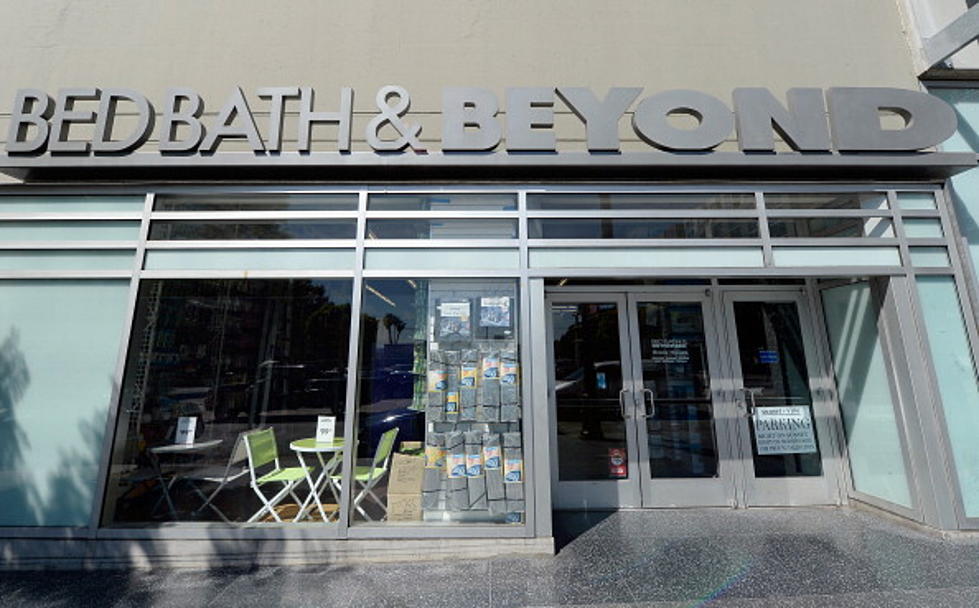 Save Now at Last Area Bed, Bath and Beyond Stores
Getty Images
Bed, Bath and Beyond has officially filed for bankruptcy and the closing sales are already underway.
Though the Dartmouth store closed its doors a few months back, there are still a few spots near the SouthCoast where you can take advantage of the going-out-of-business sales.
The company has been very open about their financial troubles for the last several months and many believed bankruptcy would be coming sooner or later. Now that day is here and company is closing up every last shop they had.
Sadly that means no more Bed, Bath and Beyond and no more buybuy Baby.
Bed, Bath and Beyond is the parent company of baby store buybuy Baby, so sadly another infant only store is going away. With Babies R' Us shutting it's doors several years ago, this doesn't leave many options for soon-to-be parents.
It does however make for some good deals now.
If you are in the market for new towels, small appliances, dinnerware or any of the hundreds of items Bed, Bath and Beyond sells, then get yourself to a store stat.
The last lingering Bed, Bath and Beyond storefront begin their going-out-of-business sales today (Wednesday April 26, 2023) and everything must literally go.
Surely the discounts will get deeper are the weeks go on, but inventory will get smaller at that point too.
Only in-store items seem to be affected right now, as a quick search of BedBathandBeyond.com, didn't show too many items on sale at all.
You cannot combine any in-store sales with those wonderful Bed, Bath and Beyond coupons however, the store has stopped accepting those as of today as well. The website offers a single 20% item however, so make sure to do the math before deciding to buy on site.
Which Bed, Bath and Beyond Stores Are Still Open?
So where can you shop in person?
There are just a handful of stores within a 50 miles radius of the SouthCoast sadly. Closet may be the Plymouth store at 200 Colony Place or the Middletown, RI location at 288 East Main Road.
There is also still a storefront at 1500 Bald Hill Road in Warwick, RI and the one inside Patriots Place in Foxborough.
Where you drive is up to you, but you better get these deals while you can as store closing sales are expected to only last a few weeks.
According to CNN.com, many Bed, Bath and Beyond locations already have interested buyers for the storefronts. Retailers like TJ Maxx, Nordstrom Rack, Burlington, HomeGoods and Five Below are actively looking to expand, while Planet Fitness has bought up a bunch of former stores as well.
Sadly, still no word on what will take over the State Road spot in Dartmouth.
25 New Bedford Bars That Are No Longer Here, But That We'll Never Forget
From 908 to the Regal Beagle on Acushnet Ave, these are the bars that are no longer with us but never forgotten.
More From WFHN-FM/FUN 107