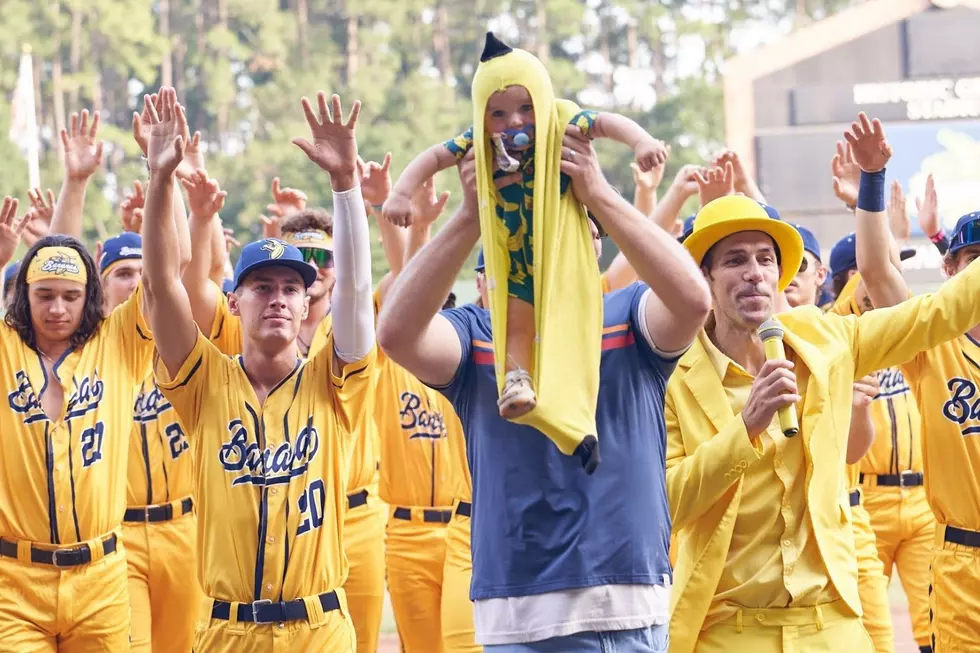 This Massachusetts Man Owns a Baseball Team Unlike Any Other
The Savannah Bananas Facebook
A Massachusetts native by the name of Jesse Cole went from sleeping on an air mattress to owning a successful baseball team.
I will be the first to tell you I know very little about sports. When I'm forced to sit and watch a game for hours with the family, I do my best to "get into it." Well, the same was sort of true for Jesse Cole, a Scituate man who loved playing baseball but wasn't a fan of watching it.
Cole, who coached on Cape Cod, found himself bored watching a game he loved, so he had a thought:
How could he run a baseball team -- even for people who didn't love the game but wanted to be entertained?
Like a lot of young baseball fans, Cole once had dreams of being in the major leagues, he told Fun 107. He has been a part of the game since a very young age. He was a bat boy for the Red Sox at 5 years old, and even got to throw the first pitch at Fenway when he was 20.
That young kid on the field at Fenway probably didn't foresee growing up to be the owner of a baseball team in Savannah, Georgia.
He threw everything he had into the team, sleeping on an air mattress in the early days just wondering how he was going to get his crew to shine. He even went as far as selling his home to fund the team's development.
That was seven years ago.
Today, The Savannah Bananas are a traveling group of entertainers who love the game of baseball. They put on a two-hour performance at ballparks across the country. It's far from your typical baseball game.
"I put on a show," Cole said in an interview for the team's YouTube channel, donning his trademark banana-yellow suit and tophat. "Our goal is to create the craziest, most outrageous baseball entertainment show in the world, and that's what we do every time."
There's a big buzz about this team and demand is high -- the waitlist is a couple of pages long. Needless to say, Cole isn't sleeping on an air mattress anymore.
The games are a treat. Players do choreographed dances to artists such as Britney Spears and Toby Keith. They've been known to play in kilts. They're followed by a pep band. They have hilarious scoring celebrations. They even have a Dad Bod Cheerleading Squad called The Man-Nanas.
Our goal is to create the craziest, most outrageous baseball entertainment show in the world, and that's what we do every time.
As for when the team could come up to Massachusetts, Cole said he is hopeful for 2023.
 While the team entertains differently at every stop, Cole said a nightly ritual that makes each game special for fans and players is the singing of "Stand By Me" by Ben E. King. People wrap their arms around one another and sing along during what Cole calls a "kiss goodnight."
"I love to be able to see people having fun and seeing things they've never seen in a ballpark," Cole said in his YouTube interview.
I can't wait to catch a "game" with The Savannah Bananas. Congrats on everything, Jesse.
Take a look at some of the on- and off-field fun at Savannah Bananas games here:
Scituate Man Owns The Savannah Bananas, a Hilarious Baseball Team
Scituate native Jesse Cole has runs a one-of-a-kind baseball team in Georgia. The Savannah Bananas not only play the game, but entertain with dancing, singing and the occasional kilt.
LOOK: 50 images of winning moments from sports history
Sometimes images are the best way to honor the figures we've lost. When tragedy swiftly reminds us that sports are far from the most consequential thing in life, we can still look back on an athlete's winning moment that felt larger than life, remaining grateful for their sacrifice on the court and bringing joy to millions.
Read on to explore the full collection of 50 images Stacker compiled showcasing various iconic winning moments in sports history. Covering achievements from a multitude of sports, these images represent stunning personal achievements, team championships, and athletic perseverance.
More From WFHN-FM/FUN 107