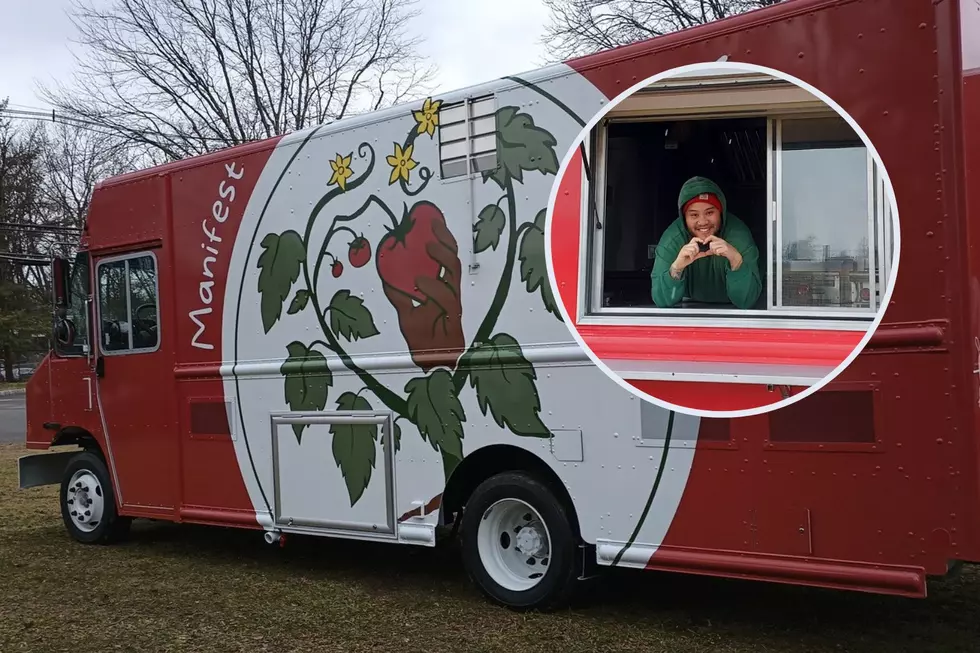 Dartmouth Nonprofit Excited to 'Manifest Love' with New Food Truck
Courtesy of Round the Bend Farm
A new SouthCoast food truck is hitting the street, and it's one of a kind.
Round the Bend Farm is a Dartmouth nonprofit that has been operating on its 115-acre farm since 2013.
On Wednesday, the organization announced its brand new project that will bring healthy food paired with education to local communities.
Round the Bend Farm
Round the Bend Farm's message is clear: education in the realms of sustainability.
"We run on the values of hope and abundance," Round the Bend Executive Director Desa VanLaarhoven said.
It's a working farm that aims to educate the public on how to live a lifestyle that respects and works with the environment, using the resources offered by nature for their "highest good."
The Manifest Love Project
"We grow a tremendous amount of food and give a lot of it away," VanLaarhoven. said. "When the pandemic hit, we knew we needed to grow more."
VanLarrhoven and her team decided to turn some of their pasture fields into vegetable gardens. After speaking with leaders of the community and teaming up with organizations such as Youth Opportunities Unlimited, YWCA and Northstar Learning Centers, Round the Bend Farm began growing more food and getting it into the hands of families who needed it most.
The Manifest Love Project was born.
"There were around 120 to 150 families every week we gave food to," VaanLaarhoven said.
For the past three years, Round the Bend has educated the public on the importance of healthy habits by instilling its three mantras: Valuing Diversity, Modeling Nature and Redefining Wealth.
As their fourth year begins, so does their food truck adventure.
The Round the Bend Food Truck
Incorporating a food truck has been Shaun VaanLarrhoven's dream for a long time. Sean is the brother of Desa, and watching her brother's dream come true brings her to tears.
"This is something bigger than us," she said. "It feels so incredible to be able to do this, and it's all because of Shaun."
Shaun's dream is slowly coming to life, and he's eager to get started.
"As a transgender queer person of color, to be able to live to this age and have others believe enough in me to help make this 10-year dream of a food truck come true, I feel truly grateful and I'm looking forward to manifesting love in communities and bringing people together through food," he said.
So, When Can I Check Out The Round the Bend Food Truck?
Plans for Round the Bend Food Truck are beginning to take shape. An official launch date has not yet been determined as the nonprofit finalizes its plans for the operation.
"At times (the food truck) will be free, at times it will be pay-what-you-can, at times it will be for cash, but it will always be sustainable, socially just, locally sourced, farm-fresh and served with love," the executive director said.
The VaanLaarhovens said they look forward to participating in food truck events as well as spreading their message to even more communities.
"I truly believe every cell of our body is dependent on the food we put in it, the water we drink, the thoughts in our head. Every single cell is dependent on that," Desa VanLaarhoven said. "If we can help and educate people on why to eat that kale or go for the spinach, then I feel like we're winning.
Stay tuned for the official launch of this revolutionary project, and in the meantime, enjoy the official Round the Bend Cookbook.
SouthCoast Restaurants Offering Fireside Dining
When the weather gets cold, nothing sounds better than warming yourself by a fire. Unless, of course, you also get to have dinner and drinks by that fire. Luckily, there are plenty of restaurants on the SouthCoast and beyond where you can ease your hunger while sitting hearthside.
More From WFHN-FM/FUN 107