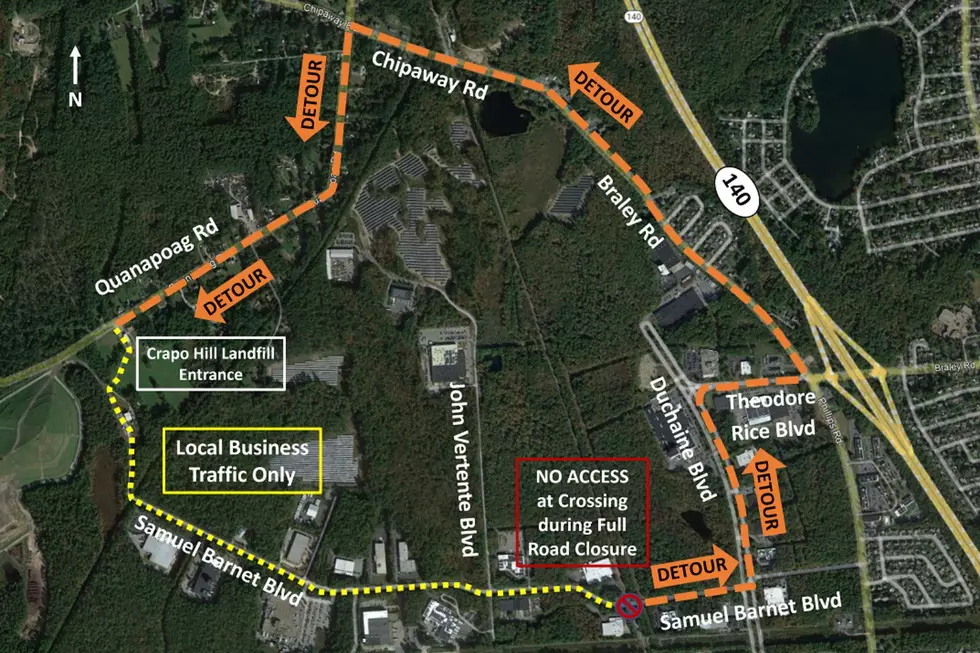 This New Bedford Road Will Be Completely Closed Over the Weekend
Courtesy MassDOT
NEW BEDFORD — MassDOT on Wednesday announced road works this week including a 24-hour complete closure of Samuel Barnet Boulevard in the city's industrial park.
The state transportation agency said Samuel Barnet Boulevard will be completely closed to most traffic for work at the railroad crossing starting from noon on Saturday, Sept. 24 until noon on Sunday, Sept. 25.
Only local business traffic and emergency vehicles will be allowed to pass to the entrance to Crapo Hill Landfill at 600 Quanapoag Rd. in Dartmouth during the 24-hour closure.
MassDOT said there will be police details at the Crapo Landfill entrance and exit so that business traffic can access the landfill over the weekend.
Single lanes of the boulevard will be closed this week until Oct. 3 as work on the rail crossing continues, the agency stated.
Work on the railroad tracks south of Samuel Barnet Boulevard to Welby Road will also be ongoing on a 24-hour basis from Thursday, Sept. 29 through Tuesday, Oct. 4, according to the transportation agency.
The 12 Worst Intersections on the SouthCoast
Here are the 12 worst intersections on the SouthCoast. One point for each intersection you've driven through.
Top 10 Costliest Crash Locations in Massachusetts
The Massachuetts Department of Transportation has collected data between 2017-2019 that show the worst areas to drive when it comes to costly crashes.
WBSM's Top SouthCoast Stories 9/11-9/17
These are the top stories of the past week on WBSM.com and on the WBSM app. Click on the title or photo to read the entire story.
More From WFHN-FM/FUN 107