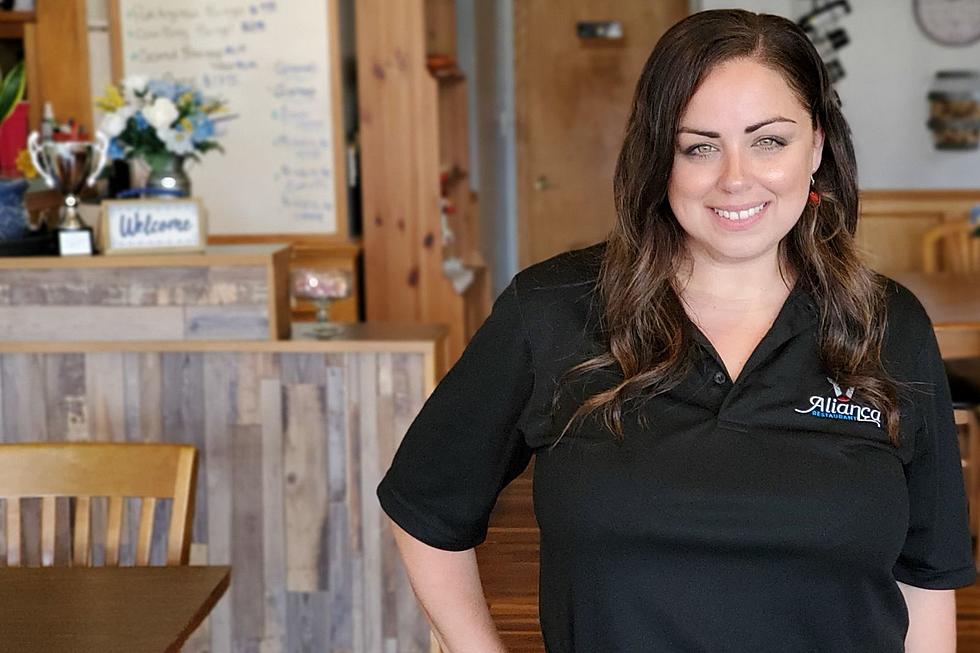 New Bedford Restaurant Owner Gives Competing Restaurants Positive Reviews
Courtesy of Alianca Restaurant
I love positive stories and make it a point to share them whenever possible. Today's story comes out of New Bedford, where a 40-year-old restaurant owner is going out of her way to not only dine at competing restaurants, but to also offer positive reviews about her competitors.
Susie Amaral has owned Alianca Restaurant in New Bedford for the past two years. Truthfully, before this year, I had never been to Alianca. I'd driven by it many, many times on the way to Fort Taber or Davy's Locker/The Edge, but never stopped at the Cove Street Portuguese spot.
Fun 107 discovered Alianca and their food, but also ended up hitting it off with Amaral. Up until two years ago, Amaral was a server at Alianca. When the previous owner began talking about retiring and selling the restaurant, she said, "Don't just sell it to some random person." He suggested she buy it. So she did.
This Foodie Isn't Afraid to Shower Her Competition With Praise
Let's face it, Amaral is still getting her feet wet as an owner. No one would blame her for strictly focusing on her own restaurant. While she actively makes her restaurant and staff the best they can be, in her spare time enjoys driving around in her Mojito-green Jeep, trying out other locally owned restaurants, and promoting the good ones that she finds.
Instant Karma
Her selflessness really resonated with us. Miller Lite heard us talking about what she is doing, and wanted to surprise her with tickets to a Red Sox game this summer. It was time that the good karma came back around to her.
SouthCoast Restaurant Reviews From a Restaurant Owner
Here are just a few of Susie Amaral's positive reviews of her competitor's restaurants. If these places are good enough to get the thumbs up from a competing restaurant owner, they are probably worth trying, right? Just make sure to include Susie's restaurant on your list. She definitely deserves that.
New Bedford Restaurant Owner's Positive Reviews of Competing Restaurants
Susie Amaral bought Alianca Restaurant in New Bedford two years ago, but that doesn't stop her from visiting competitor's restaurants and publicly sharing positive reviews. Here are just a few of them.
25 Cash-Only SouthCoast Businesses
Here are 25 businesses on the SouthCoast that only accept cash (and sometimes checks), but no credit or debit cards.
The SouthCoast's Dog-Friendly Restaurants
If you've been searching for a restaurant where you can take your dog with you for a bite to eat, here are some of our faves on the SouthCoast.
The Best of South Shore Bar Pizza
There's pizza, and then there's South Shore Bar Pizza. Birthed in Brockton (and to this writer, perfected in Randolph – Lynwood Café is the true G.O.A.T.), it must meet certain qualifications to be considered "SSBP," which include: it's a 10-inch pie; it has a thin, cracker-like crust with minimal "flop;" the cheese is a blend that features more cheddar than mozzarella; and bonus points if you take it home between two carboard-type plates wrapped in flat brown paper bag. They also usually come with "laced" or "burnt" edges (terminology depends on where you are ordering), which is when the sauce and cheese are extended all the way to the edge of the pan, creating a crispy, flavorful coating to the crust. We reached out to the hugely popular
South Shore Bar Pizza Social Club Facebook group
to ask the experts to share the best of the best (in no particular order).
9 SouthCoast Restaurants We Miss That You Might Miss Too
The SouthCoast is home to many great restaurants, but that doesn't mean we still can't be sad about some of the ones that left us too soon. See how many you remember from New Bedford, Dartmouth, Middleboro and Fairhaven.
More From WFHN-FM/FUN 107