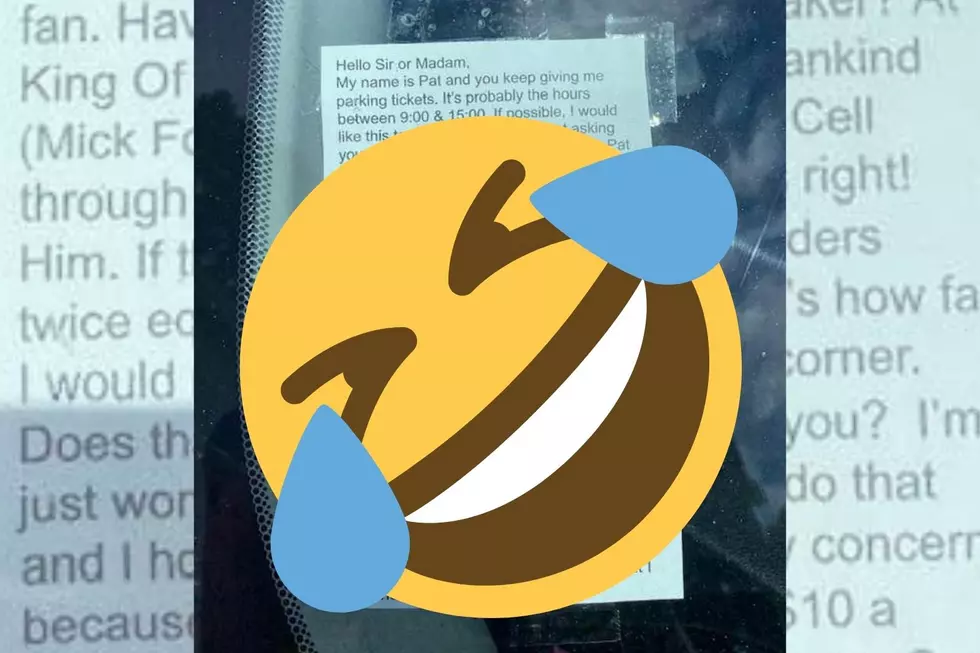 New Bedford Man Leaves Hilarious Note for Parking Official
Photo Courtesy of Patrick Long
Nothing brings me more entertainment than the witty doings of someone who is frustrated.
A good friend of mine named Patrick Long has just about had it with the New Bedford Parking Authority and decided to take things into his own hands.
Long was been receiving a ticket a week for the past five weeks or so as a result of parking within 20 feet from the corner.
"On my street, you're even too close to a driveway or the corner of a street," Long said. "It doesn't help that my house is on the corner."
Fed up with the constant tickets, Long wrote the parking official a personal note that he taped to the inside of his car. This is what it read:
"Hello Sir or Madam,

My name is Pat and you keep giving me parking tickets. It's probably the hours between 9:00 & 15:00. If possible, I would like this to stop happening. I'm not asking you to stop giving me tickets because I, Pat owner of White Jeep, understand the law. Unfortunately, if you look around you will see that I live on a one way street with one side of parking. Fun right? So with that you are asking me to park 20 ft. (240 in) away from the corner? I don't know if you're a wrestling fan. Have you heard of The Undertaker? At King Of The Ring 1998 he threw Mankind (Mick Foley) off the top of Hell In A Cell through an announcer table. That's right! Him. If that man stood on his shoulders twice equaling 3 Undertakers, that's how far I would need to be away from the corner. Does that seem a little extreme to you?  I'm just wondering how I can possibly do that and I hope you can understand my concern because I'm basically just paying $10 a week to park in front of my own house. Can we fix this? If you look up my registration or license plate number I'm sure you'll see my address. Knock on my door and educate me instead of punishing me for something that I don't know how to fix." 
I have to admit, using a 6-foot-10 WWE wrestler as the unit of measurement to compare how far from the corner would mark 20 feet is pretty ingenious.
"It's basically costing me about $10 a week to park at my own house," Long told Fun 107. "I live on a one-way and you can only park on one side of the street. Most houses are multi-family, making it impossible to find parking since there's at least three cars per household."
As a DJ, Long has a lot of equipment he needs to carry in and out of his house, making it very difficult to park blocks away, where he says the only available parking can be located.
"If I could park somewhere, I would," Long said. "It's not just me, my surrounding neighbors are getting hit hard with tickets too, left and right."
Long stated that there's no point in even attempting to fight these tickets, either. Every time he calls, he claims he only gets a hold of the city clerk.
"There answer is always the same," Long said. "There's nothing they can do about it and there's never a solution to the problem. Even before COVID hit the area, I was getting home around 3 a.m. from DJing and all the spots would be taken up. It's a never-ending cycle."
As for the response of the parking official, we'll have to see what happens. For now, let's play the waiting game and see what he or she has to say to Long's savage rebuttal.
New Bedford's 5 Tallest Buildings
Enter your number to get our free mobile app
More From WFHN-FM/FUN 107