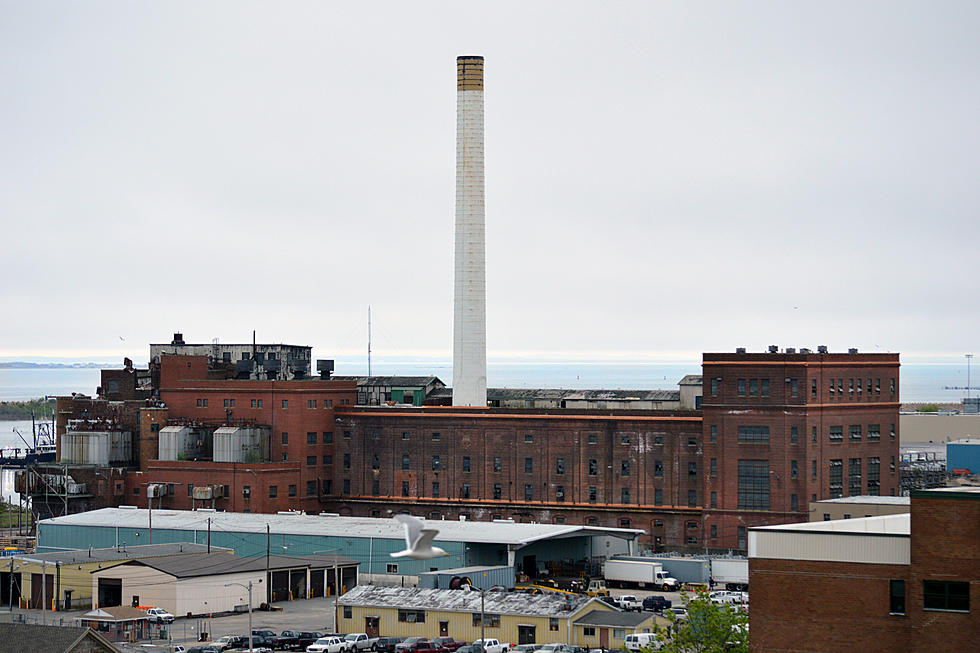 The Story Behind New Bedford's 'Giant Cigarette' Smokestack
Courtesy Arthur Motta
Over on the waterfront of New Bedford is a towering smokestack that resembles a giant cigarette from afar and I've always wondered what the heck it was.
It's obviously a smokestack, but if you're new to the area, I'm sure you've asked yourself the same question. It's no longer in use anymore, but when it was, what the heck was the business that it was attached to? Inquiring minds are curious and by that, I mean my own.
As I drove by the old abandoned MacArthur Drive mill, I noticed that the property was owned by Eversource; before that, it was NStar. What was there before the two energy giants is what I'm more interested in.
According to Wikipedia, there are two buildings that make up what's called the New Bedford Gas and Edison Light Complex that sits on 5.8 acres of property and was built by Stone and Webster, Durfee, William and Sons. There's the Cannon Power Station that operated as a power generation facility and the other was the old Taber & Grinnell Iron Foundry. What I'm more interested in is the New Bedford Gas & Edison Light Company that is home to that "giant cigarette."
Local historian Arthur Motta is well educated on the matter and tells Fun 107 that the giant tower is the last of the "Six Sister Smokestacks" that once reigned over the downtown/waterfront region of New Bedford. It was to be left alone and not knocked down so it would display the name of a great oceanarium that was in works along its side like "WIlly Wonka's Chocolate Factory," as Motta referred to it.
The National Register of Historic Places dates the buildings back to 1850 and they were utilized until 1974. It's been vacant since 2012 and currently, there are no plans for the abandoned facility other than the giant aquarium that was devised back in 1997, but then fell through back in 2002.
Talks of a casino also didn't pan out, but if it was up to me, I'd love to see the space used as a concert venue or perhaps even a sports stadium. Both would equally bring in business.
Either way, in light of the vibrant history found throughout New Bedford, it's a beacon that I enjoy seeing on my daily commute home. Whatever the future holds for the "giant cigarette," may it be beneficial to the culture of the city that's ever-changing in a fast-paced economy.
MORE: Maddie's Favorite Takeaways from New Bedford in the 1950s
KEEP READING: Scroll to see what the big headlines were the year you were born
More From WFHN-FM/FUN 107