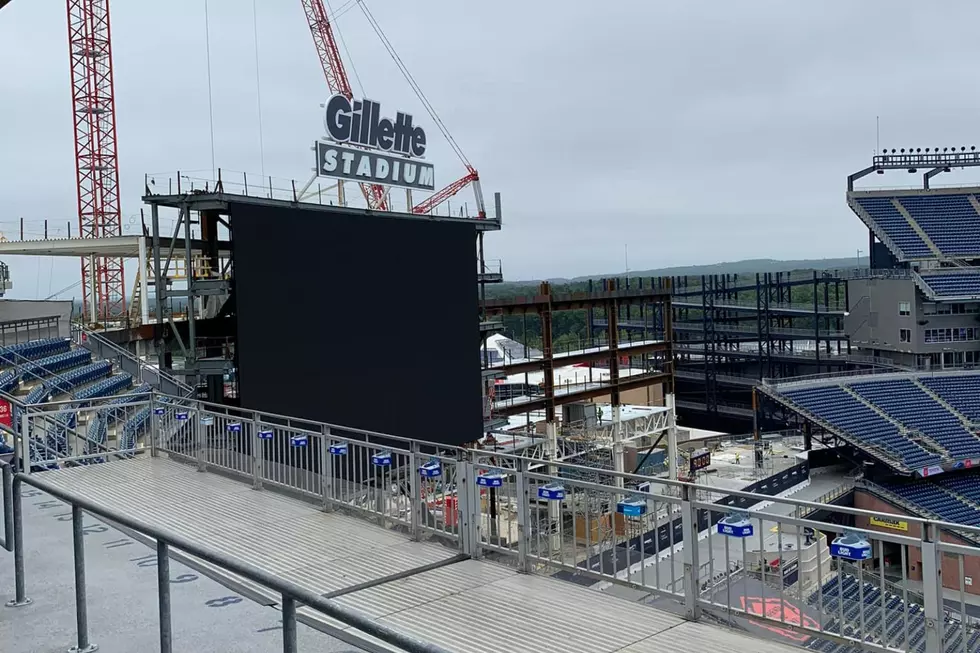 Largest Outdoor Video Board in The Country Being Built at Gillette Stadium
Courtesy of Anonymous
Gillette Stadium is in the midst of a serious upgrade that will have fans experiencing their home turf like never before. The New England Patriots organization announced last year that Gillette would receive $225 million in renovations and upgrades, beginning with the north end of the stadium.
Construction is scheduled to be completed prior to the 2023 NFL season, but possibly the most eye-catching improvement has already started to take shape: the largest outdoor stadium high-definition video board in the country.
A Sneak Peak from the Job Site
A person overseeing the project at Gillette shared a photo of the massive project underway. Due to their role, they chose to remain anonymous, but they were able to provide a glimpse of what fans can expect.
That screen seems pretty big, right? Well, that's only 1/4 of it.
Upon completion, the high-def video screen with measure 370 feet x 60 feet.
"The 22,200 square feet of video board space will be nearly double the size of the new south endzone video board," the Patriots said.
Watching game action and replays will feel like you're right on the field, even from the nosebleeds.
Other Improvements Coming to Gillette
The north end will feature 75,000 square feet of function spaces enclosed in glass that bridge the gap between the East and West Putnam clubs, the Dell Technologies Suite levels and the upper concourse.
The signature lighthouse will also get an upgrade, standing 218 feet tall, complete with a 360-degree observation deck at the top.
"This one-of-a-kind observation deck will be accessible to fans visiting Gillette Stadium year-round and available for private events," the Patriots said.
When these massive renovations and upgrades are completed, Gillette Stadium will be better than ever, and not only be home to one of the best teams in the NFL, but will also be home to the largest outdoor video board in the United States.
Go big or go home. And Go Pats.
20 Celebrities Who Love the New England Patriots As Much As You
Patriots Nation is strong with or without Tom Brady and these celebrities count themselves among the those who love New England's football team.
More From WFHN-FM/FUN 107