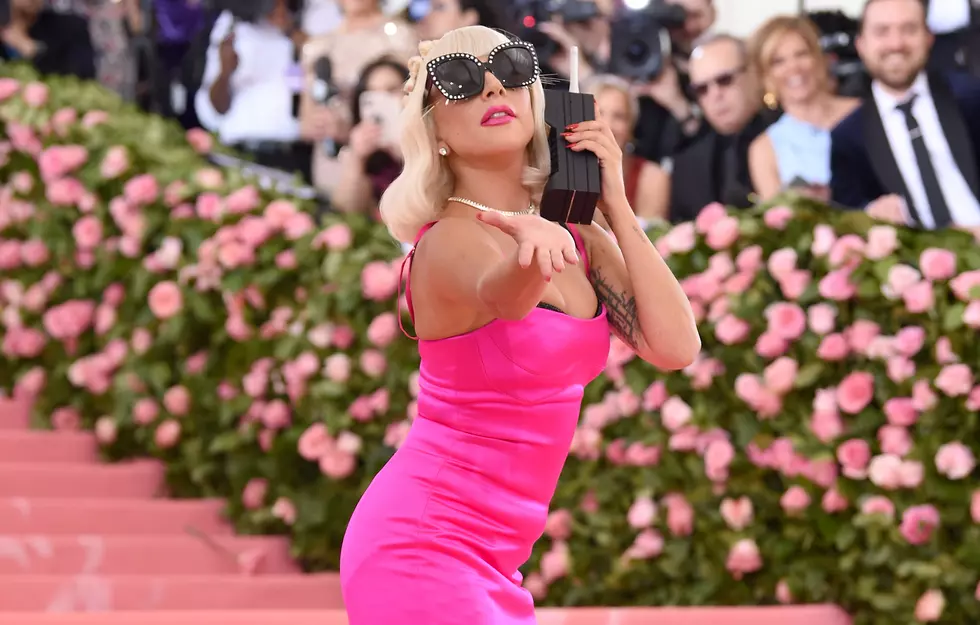 If You're Missing Concerts, Apple Has You Covered This Weekend
Getty Images for The Met Museum/
Apple is going to showcase a three-day concert extravaganza entitled At Home with Apple Music: Best Seat in the House.
With COVID-19 dashing the world's spring and summer concert plans, Apple Music is stepping up to ease that major concert FOMO over Memorial Day weekend.
Starting Saturday, May 23, the streaming service kicks off a three-day nonstop concert extravaganza where fans can relive some of the biggest performances in music history.
Missed U2's 2009 performance at the Rose Bowl or Elton John's 2007 concert at Madison Square Garden? Apple Music is bringing those major concerts and more to their 20-concert livestream event and will also give fans a front-row seat to the action by also playing studio versions of all the songs.
Kicking off the 72-hour nonstop concert series will be Lady Gaga's 2011 pit stop at Madison Square Garden during her Monster Ball tour. Coldplay will take the reigns next with its 2017 performance at São Paulo, Brazil. Other acts featured that day will be Camila Cabello and more.
Here's the complete schedule:
Saturday, May 23 -- Pop's Biggest Performers like...
Lady Gaga - The Monster Ball Tour Live at Madison Square Garden (New York City, USA 2011)
Coldplay - Live In São Paulo (São Paulo, BR 2017)
Amy Winehouse - Live at Porchester Hall (London, UK 2007)
Lil Wayne - Live at House of Blues Los Angeles (Los Angeles, USA 2008)
Tyler, the Creator - Apple Music Presents: Tyler, the Creator (Los Angeles, USA 2019)
J Balvin - Bruuttal (Medellín, CO 2017)
Camila Cabello - New Music Daily Presents: Camila Cabello (Los Angeles, USA 2019)
One Republic - Live in South Africa (Johannesburg, ZA 2015)
Sunday, May 24 -- Rock Heroes
Pearl Jam - Immagine in Cornice (multiple cities in Italy, 2006)
Metallica - Quebec Magnetic (Quebec City, CA 2009)
Rage Against the Machine - Live at Finsbury Park (London, UK 2010)
Nine Inch Nails - Beside You in Time (multiples US cities, 2006)
U2 - 360 at the Rose Bowl (Pasadena, USA 2009)
Nirvana - Live at Reading (Reading, UK 1992)
Monday, May 25 -- Legends
Eagles - Hell Freezes Over (Los Angeles, USA 1994)
Bob Marley - Uprising Live! (Dortmund, DE 1980)
Elton John - Live at Madison Square Garden (New York City, USA 2007)
The Rolling Stones - Hyde Park Live (London, UK 2013)
Queen - Live at Wembley '86 (London, UK 1986)
Bruce Springsteen & the E Street Band - London Calling: Live at Hyde Park (London, UK 2009)
And speaking of Lady Gaga, she finally opened up about working with Ariana Grande on her new song "Rain on Me" and how ultimately they became friends.
In a new interview with Apple Music, Gaga says she admires Ariana for her "ability to move on" from difficult times in her life.
Actress Lori Loughlin and her husband will be serving prison time after agreeing to plead guilty in the college admissions fraud case. Lori is agreeing to spend two months in federal prison for paying $500,000 to help get her daughters into USC. Yikes, that is a steep sentence compared to Felicity Huffman's 14-day prison stint. Lori's husband Mossimo Giannulli's sentence will be five months in prison. The couple is among around 50 people charged in the case, otherwise known as the "Varsity Blues" scandal.
KEEP READING: Here are 50 of the most famous sports goofs
Enter your number to get our free mobile app
More From WFHN-FM/FUN 107