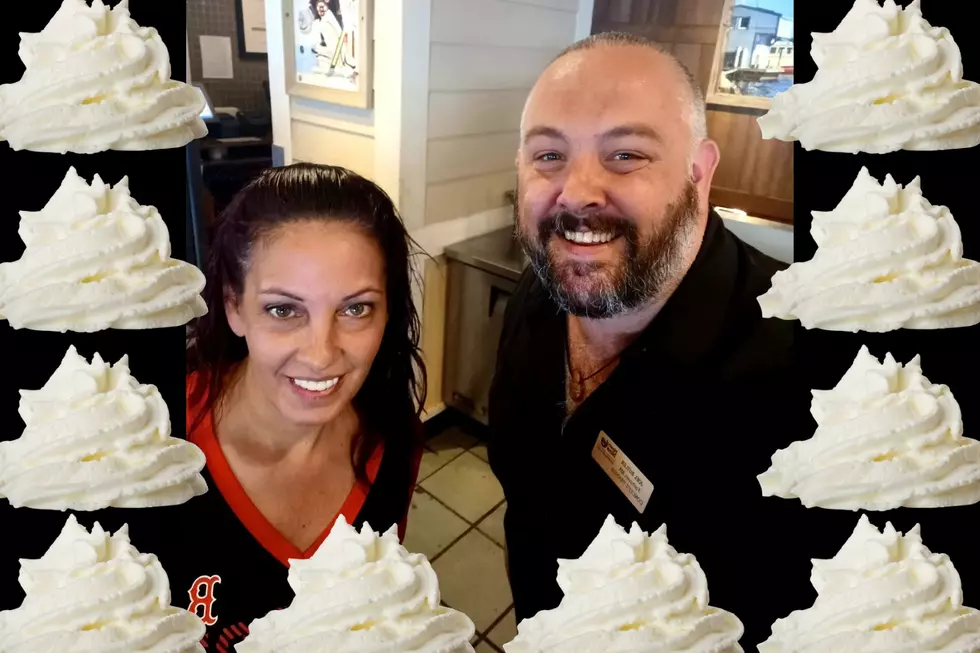 Fight Cancer by Throwing Pies at These 99 Restaurant Bartenders
Courtesy Joel Butler
Two staff members of a local 99 Restaurant are taking one for the team ... right to the face for a good cause.
Joel Butler and Jen Dion, who work for the Fairhaven 99, are gearing up to take a pie to the face to raise money for Dana-Farber Cancer Institute.
On Sunday, Aug. 21, 11 a.m. to 1 p.m., you can toss a pie at a willing subject and every penny goes toward cancer research.
"Here at the 99, we have raised money for many years to help out Dana-Farber; it's just what we do," Butler said. "Almost everyone else is affected by cancer and Dana-Farber has usually been there to help in one way or another."
Now, I know what you're thinking: "Can I throw multiple pies at them if I want to?"
The answer is yes.
It's $20 per pie and your call as to how many you're willing to buy.
Come rain or shine, this event will be held outside in the plaza, where whipped cream pies (think the movie Grease) will be ready on command.
"Jen and I have worked together for almost 13 years," Butler said. "We team up every year and try to do something out of the ordinary, whether it's asking for a $1 donation on every check or having strangers whip pies at our faces."
The dream team has raised well over $5,000 in their past fundraisers and hopes to do the same this weekend. If you'd like to donate or buy a pie, simply stop into the Fairhaven 99, and your name will be added to a list that currently has over 50 people signed up so far.
It's safe to say that I'll be there and can't wait to toss out a pie or two to help fight cancer and I hope to see you there with me.
The Ultimate A-Z Apple Picking Guide for Massachusetts and Rhode Island
Apple picking is classic fall family fun and there are lots of farms to visit across Massachusetts and Rhode Island. So whether you want a road trip or to just stay close to home, here are all the apple orchards you can pick from this season. Just click on each one to find out more.
More From WFHN-FM/FUN 107