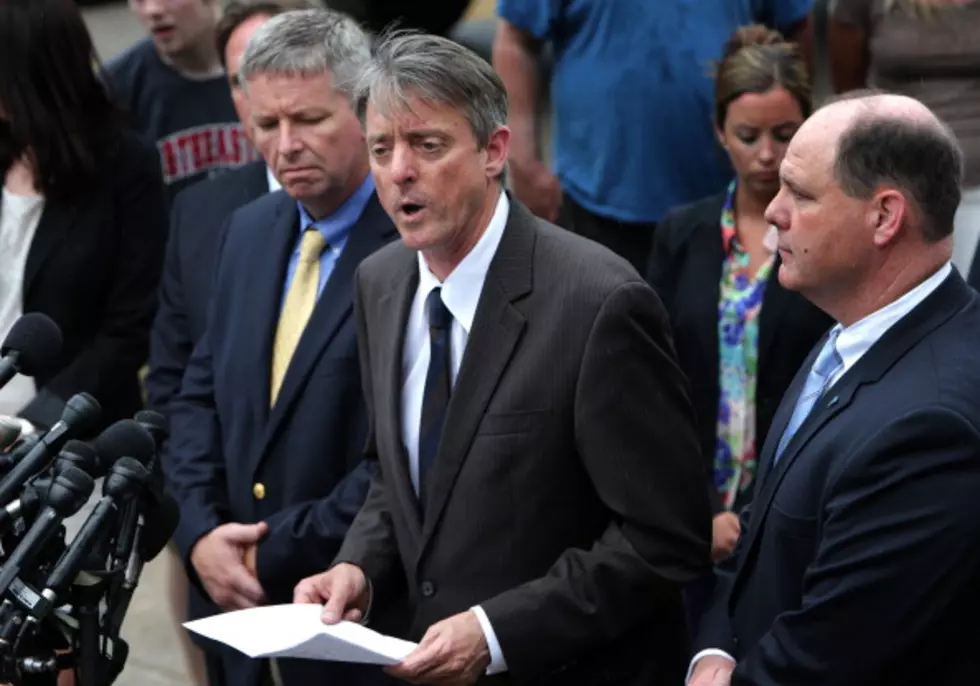 Former Fall River Mayor Sam Sutter Planning Another Mayoral Run
Boston Globe/Getty Images
Former Bristol County District Attorney and former Mayor of Fall River Sam Sutter announced to a small gathering of supporters at his home Wednesday that he is once again running to be Fall River's top elected officeholder.
Sutter served as Bristol County District Attorney from 2007-2014 after defeating longtime DA Paul Walsh in the 2006 election. In 2012, Sutter mounted an unsuccessful primary challenge against Congressman Bill Keating for the redrawn 9th Congressional District seat in the U.S. House.
Sutter left his post as Bristol DA in 2014 when he handedly won the recall election for Fall River Mayor that ousted three-term incumbent Mayor Will Flanagan.
In 2015, Sutter was defeated in his reelection bid by then 23-year-old Fall River City Councilor Jasiel Correia.
Former Mayor Correia reported to federal prison earlier this year to serve a six-year sentence for defrauding investors in his SnoOwl app and for using his position as mayor to extort marijuana retailers.
Sutter will be challenging two-term incumbent Mayor Paul Coogan.
Coogan, a former Fall River School Committee member and vice principal at BMC Durfee High School, unsuccessfully challenged Correia in the 2019 recall election following a series of federal indictments that led to Correia's eventual conviction and imprisonment.
Coogan challenged Correia again in the general election later that year and was elected after Correia had resigned just under a month before election day. Coogan easily won his bid for reelection in 2021 against City Councilor Cliff Ponte.
Sutter told WBSM that is he running because he sees three primary issues in Fall River: a surge in crime and specifically in gun violence; underperforming schools, claiming that Fall River Public Schools are ranked 335 out of 351 public school districts in the Commonwealth; and housing. Sutter went as far as to accuse Coogan of not knowing the difference between public housing and Section 8 housing.
"After a lot of thought and many conversations over the past few months with people throughout Fall River from all walks of life, I decided to run and I decided not to stay on the sidelines and watch these problems get worse," Sutter told WBSM.
Sutter said that in his year as mayor, he created a "business friendly environment." He credited his administration with the redevelopment of the former New Harbor Mall into SouthCoast Marketplace and securing the deal that landed the Amazon Fulfillment Center.
"Crime was decreasing, schools were improving, and the city was on the upswing – and I can do it again," Sutter said.
Sutter told WBSM that he plans on making a formal announcement at his official campaign kickoff in late January.
WBSM's Most-Viewed Stories of 2022
More From WFHN-FM/FUN 107