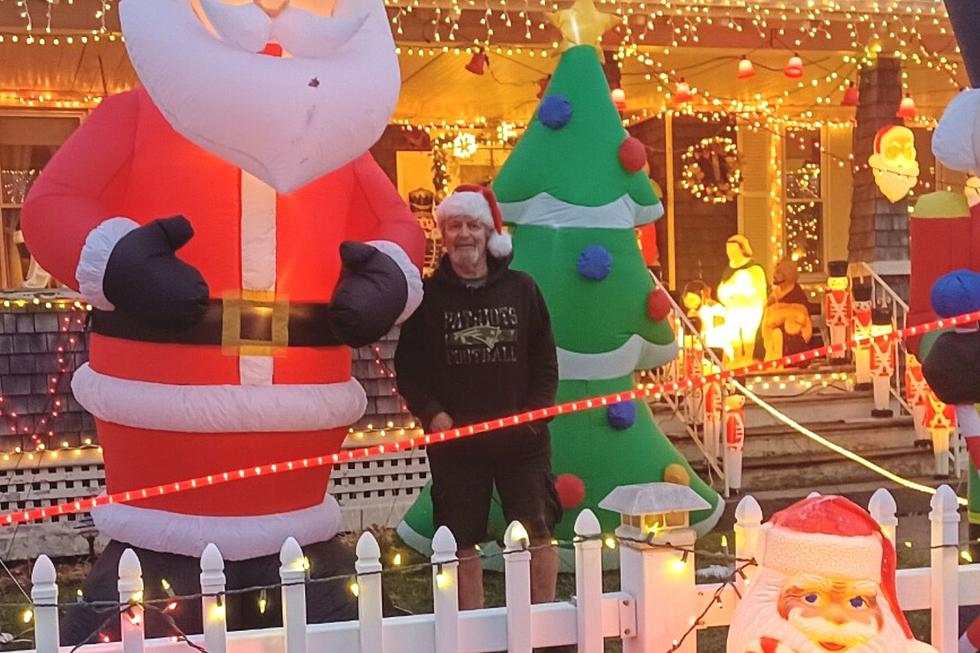 Fairhaven's Mike Aguiar Has Been Cheering Up Route 6 for More Than 30 Years
Mike Aguiar stands outside of his home on Huttleston Avenue in Fairhaven / Contributed Photo
Fairhaven's Mike Aguiar is one of SouthCoast's original holiday light decorators, clocking in at 32 Christmas seasons and counting.
Long before his three daughters, and longer before his 11 grandkids, Aguiar's love of holiday decorating began when he and his wife bought their home on Huttleston Avenue in Fairhaven 34 years ago.
"As soon as I got a decent job and we moved into this house, I said to myself, I'm doing it," and I started decorating the house and never stopped," he said.
Aguiar's display is unmissable and has long been one of the most prominent light displays in Fairhaven. Each year, he takes the week following Thanksgiving off from work and begins the seven-day project of decorating every last square inch of his property.
"My wife decorates the inside and the outside is my baby – that's my project," he said. "We have about 20 bins that hold our outdoor decorations and another eight bins that hold the indoor decorations."
Aguiar said everyone loves his display, including his neighbors.
"They say I put up enough lights for both of our homes, it's so bright," he said.
Aguiar said that once people find out it's his house, the compliments never end.
"It makes me happy to know I make people happy. I look forward to doing it and sharing it with everyone," he said. "I didn't have this growing up so it makes me happy to share it with other kids who don't have it now. My own grandkids love it, though, they like to 'drive by Pa's house' and see the lights."
Among all of the lights, visitors will see a 10-foot Santa, a BBQ Santa, Santa in a hot air balloon, and toy soldiers lining his front steps. Each year the display changes a little bit, with more and more decorations being added as he goes; some he buys during post-Christmas sales, and others are donated. You can see the difference just from 2012 to 2021 in the image below.
When asked what his tips were for anyone new to decorating the house and trying to weather the very windy weather lately, Aguiar's response was simple.
"Staples and zip ties," he said. "I use about 700 heavy-duty staples on my house but things stay pretty secure that way. They're not going anywhere. After enough time, you get it down to a science and it's really easy to do. But with staples, definitely."
Aguiar's display lights up Route 6 from 4 p.m. until about 10:30 p.m. every night.
"It's like I have a responsibility to keep it on, there's a lot of people that drive up and down Route 6 at all hours of the night and it makes people happy to see," he said.
Light Up SouthCoast 2021: Holiday Light Displays Across the SouthCoast
Across the SouthCoast, homeowners are putting in the elbow grease to make sure their home shines the brightest. These light displays are a surefire way to bring holiday cheer to anyone. Make a plan to see them all!
More From WFHN-FM/FUN 107