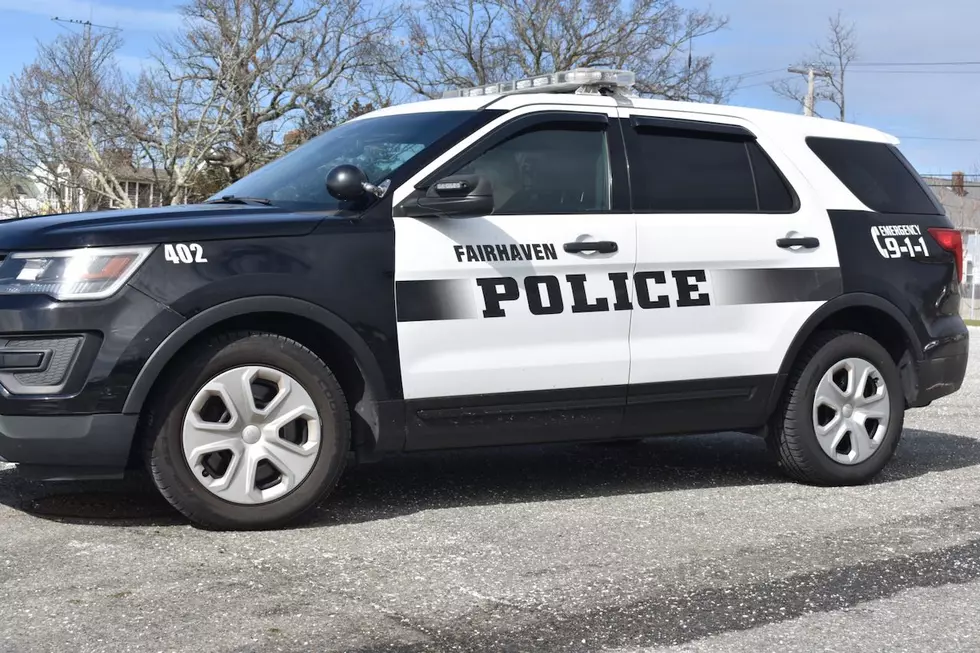 Ex-Fairhaven Police Officer Wins Alcoholism Discrimination Lawsuit
Mary Serreze/Townsquare Media
FAIRHAVEN — A former Fairhaven cop who sued the town and two town officials after they claimed he was fired for being drunk on the job has won a discrimination case.
On Friday, Jan. 27, a superior court jury awarded Jonathan Alves over $800,000 for lost compensation and other damages due to his termination in 2016, for what town officials said was a pattern of poor behavior but what he argued was discrimination.
Officials said that the morning after St. Patrick's Day in 2016, Alves had come to work late, gone on patrol, and later allegedly admitted to a supervisor that he was still drunk from the night before — a story that Alves disputes.
Instead, the former cop said, he had admitted to his supervisor that he was an alcoholic — but denies that he was drunk at the time, or that he told his supervisor that he was.
"It makes no sense at all" that Alves would have been allowed to go on patrol — or drive himself home — if he were drunk that day, Alves' attorney Philip Beauregard said.
Beauregard added that the jury clearly agreed, awarding his client punitive damages as well as other damages in the suit that the attorney said could end up costing the town up to $1.5 million dollars with interest and fees.
Alves sued the town along with Police Chief Michael Myers and former Town Administrator Mark Rees over his termination.
Statement from the Town Administrator
Current Fairhaven Town Administrator Angelina Lopes Ellison in a statement called the jury's decision "extremely troubling," stating that Alves had been reprimanded several times during his short tenure with the department.
Incidents involving Alves' alleged "poor judgement," according to Ellison, included being stopped for speeding and allegedly trying to use his department position to argue, and posting a photo of himself with weapons captioned "Bad MF'er."
Ellison drew a parallel to Tyre Nichols' death at the hands of police in Memphis.
"While we do not allege that the misconduct in the Tennessee case is analogous to this matter, both involve holding police officers accountable," she wrote in the statement.
She went on to call police misconduct "a direct and foreseeable outcome if we fail to properly hire, train and supervise police officers."
"Alcoholism is a legitimate handicap within the meaning of the law," Ellison noted.
"However, an employee is not legally entitled to the protection of the law if he or she commits misconduct that would cause a non-handicapped person to be fired."
March 18, 2016
Alves had been sworn in as a police officer in August 2015, and was still in a one-year probationary period the morning after St. Patrick's Day 2016, when he showed up around half an hour late for his shift.
According to Alves, later that morning he confessed to Sgt. Matthew Botelho — whom he considered a personal friend — that he was an alcoholic, which he had never admitted before.
He was sent home later that day for being distracted and upset.
Town officials, on the other hand, claimed he had told the sergeant he was still drunk from the previous night.
But Alves' attorneys noted in court documents that Botelho's behavior that day did not fit the department's claims.
"Sgt. Botelho spoke with Alves three separate times on the morning of March 18, including immediately upon his arrival at work," they wrote in one opposition document.
"At no point did Sgt. Botelho — a trained officer with over 15 years' experience on the force — observe or test for any signs of intoxication on the part of Alves during their interactions."
"Instead, Sgt. Botelho sent Alves out on patrol in a marked cruiser, in uniform, with his service weapon after speaking with him," they noted.
Alves argued that if he had been sent home for being intoxicated, he would not have been allowed to drive on his own with his service weapon — carrying a firearm under the influence is illegal in Massachusetts — without an escort.
He has not been charged with operating under the influence or any other crime following the incident.
Alves has remained sober since completing a program in late March 2016 for substance use disorder, according to Beauregard.
Alleged pattern of poor judgment
Town officials said that the March 2016 incident was just the last of a series of incidents that showed Alves was not cut out for police work.
After his appointment but before starting the police academy, Alves was stopped for speeding, and officials claimed he tried to get out of a ticket due to his connection to the department.
Ellison wrote in her statement that Alves "argued with the officer that stopped him, apparently believing that as a member of the Police Department, he wasn't subject to speeding laws."
He was also asked to take down an image posted to social media of him holding a knife and a handgun with the caption "Bad MF'er."
"The Town made the difficult decision to terminate Mr. Alves because he had shown a pattern of poor judgment and immaturity," Ellison wrote.
Discrimination claims
Beauregard argued that officials continued to add new reasons for Alves' termination after the fact, which were not included in the original letter.
The alleged incidents of misconduct prior to March 2016 "did not result in a written warning or any other disciplinary action," the plaintiffs noted.
Meanwhile, other officers were not reprimanded for tardiness, and department policies on alcohol consumption the night before a shift are unclear.
Alves' attorneys argued that in at least once instance, an officer showed up to work in a condition that he allegedly needed intravenous hydration — and was not written up.
Beauregard said that since his termination, Alves has tried to apply for law enforcement work in "a dozen different towns," but has been unsuccessful due to the false reports on his record.
As for the case's outcome, Beauregard said, "it feels very satisfying, because it's been a long battle."
Ellison said in her statement that the town is "reviewing all of its options" for appealing the decision.
20 Photos That Prove the SouthCoast is Just as Beautiful in Winter
Sure, everyone loves the SouthCoast in summer — beaches, ice cream, outdoor concerts, all that good stuff. But the real ones know winter is just as good. Check out these gorgeous local landscapes! Can you figure out where they are?
Top Stories for the First Week of 2023
Massachusetts State Police Make Quincy Girls' Dream Come True
Quincy's Isabelle Rose Finnemore received the surprise of a lifetime from Troopers Steven Valair and Phil Giardino. This nine-year-old girl is battling a difficult cancer diagnosis and fighting each and every day.
More From WFHN-FM/FUN 107