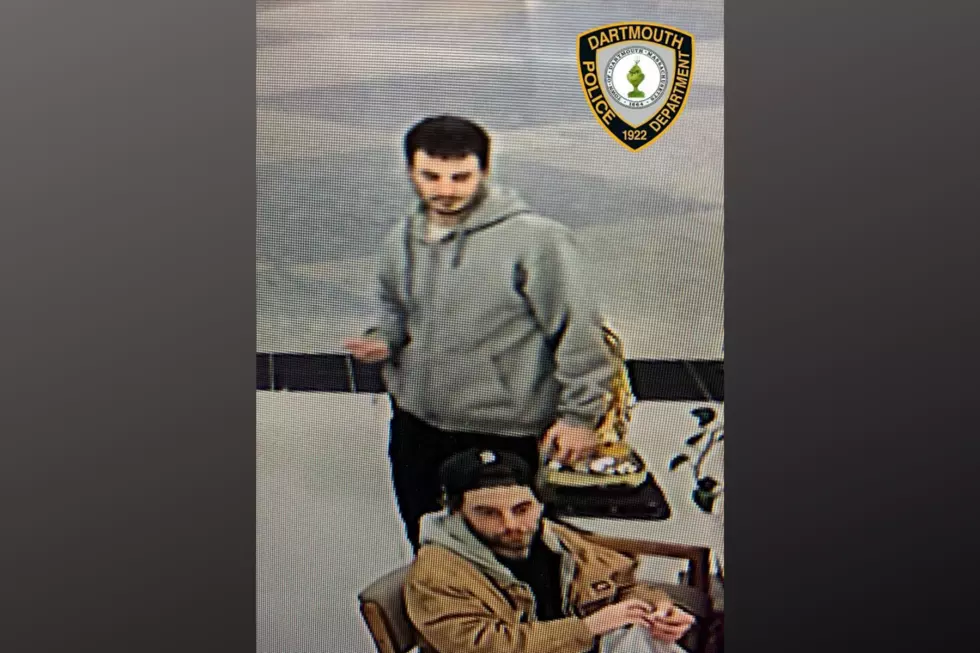 Dartmouth PSA: Please Stop Stealing Cell Phones, You Will Get Caught [PHOTO]
Courtesy Dartmouth Police
If you've ever had your phone swiped from underneath your nose, you'll know how annoying this can be.
Back on Halloween, I was at a bar in downtown New Bedford when my phone was taken from me when I least expected it. Legit, within a matter of seconds, the thief took it from my side with ninja-like skills.
As you can see, the above suspects decided to join the three-ring cell phone jacking circus, and just in time for the holidays. How convenient.
Around 3 p.m. today, the Dartmouth Police Department blasted out this security footage of the two scrooges who thought they could get away clean but were unaware that they were on candid camera.
"Calling all cAHs...Calling all cAHs," the DPD posted on its Facebook page. "Oh, Fudge (A Christmas Story), DPD is looking for a little help...AGAIN, as we attempt to identify Marv & Harry (Home Alone)."
As you can see, the Christmas creativity was at an all-time high down at the station.
The victim whose phone was stolen was simply getting her nails done at the Dartmouth Mall (probably in preparation for the holidays, can you blame her?) when the situation occurred.
"Come on my peeps! Please help us in our attempt to show these two just how important it is to 'Put one foot in front of the other (Santa Claus is Coming to Town),' as they walk to the front of the courtroom," DPD continued in its witty post. "If you would like to help us place them on Santa's Naughty list, you can either send us a private message or call Detective Kyle 'Heat Miser' Costa at 508-910-1755."
Seriously folks, I really don't know what else to tell you other than stop stealing in general, it's just dumb.
If you've ever had your phone taken away, stolen, or broken, then you know firsthand how annoying and frustrating it is to start all over again. Not everyone is familiar with how the "cloud" works.
Let's find these cowards who probably don't know how to work hard for their own money and get this lady's phone back to her. It's the holiday season. Let's start acting like it.
Enter your number to get our mobile branded app
More From WFHN-FM/FUN 107