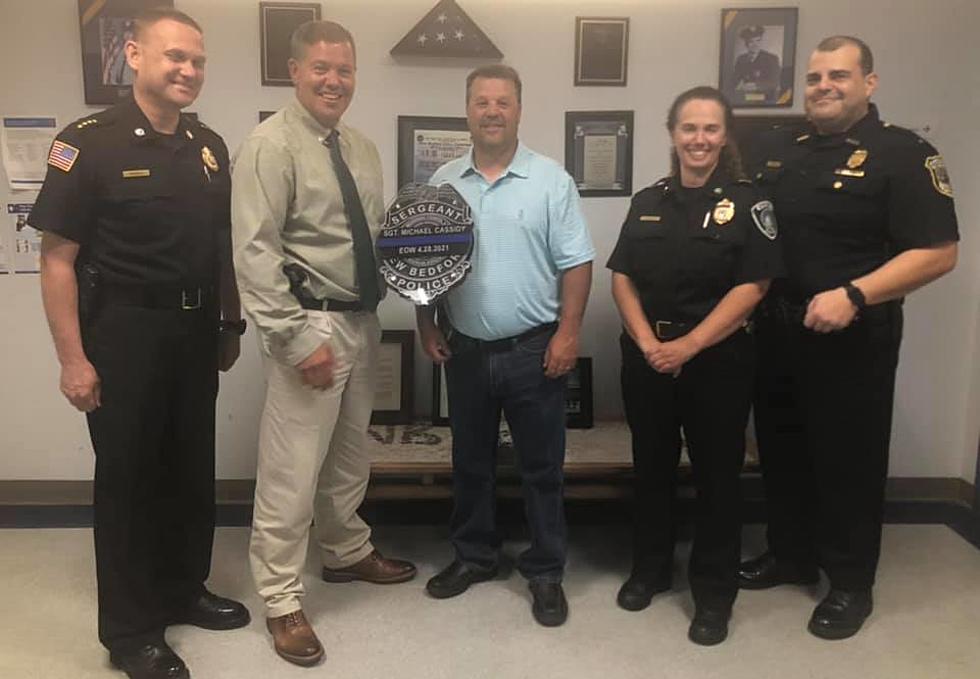 Carver Officer Honors New Bedford's Late Sgt. Cassidy With Touching Tribute
City of New Bedford Police Department (Official)
New Bedford Sgt. Mike Cassidy's legacy lives on and will continue to be honored for years to come thanks to a new touching tribute.
Special Officer Peter Allegrini with the Carver Police Department recently presented Cassidy's department with a handcrafted memorial in honor of the late Sgt., who passed away in April after a battle with COVID-19. Special Officer Allegrini, Chief Marc Duphily and Deputy Chief Sheri Sarmento of Carver, as well as Chief Paul Oliveira and PIO Lt. Scott Carola of New Bedford, were there to mark the special moment and accept the memorial, which the NBPD said "will hang in a place of honor at Station 3, [where] Sgt. Cassidy served many years."
Sgt. Cassidy served in the U.S Marines before joining the NBPD in 1994. During his 27 years with the department, Cassidy received many awards and acknowledgements for his work, including two New Bedford Life Saving Awards and nods from the City of New Bedford, the Commonwealth of Massachusetts, the U.S. Senate, and the American Red Cross. He passed away on April 28 at just 52 years old.
"This is a tremendous loss to our department and to the City of New Bedford. As we all know Sgt. Cassidy was a proud officer who served the people of this city with his whole heart," Chief Oliveira said after Cassidy's passing. "Sgt. Cassidy loved being a police officer and went above and beyond to impact the lives of others in a positive way."
Sgt. Cassidy's legacy of service still lives on in New Bedford, as Karen Blanchard Huard shared in a comment on the NBPD's Facebook page.
"I was just thinking about him yesterday when I was in Market Basket," Huard wrote. "There was an officer standing near the doorway and I remember Officer Cassidy working the detail in the store many, many times."
22 Photos From the Wake of New Bedford Police Sgt. Michael Cassidy
New Bedford Police Sergeant Michael Cassidy was remembered on Monday, May 10, before being laid to rest to the next day. Cassidy lost his battle with COVID-19 on April 28 at the age of 52.
Massachusetts State Police Make Quincy Girls' Dream Come True
Quincy's Isabelle Rose Finnemore received the surprise of a lifetime from Troopers Steven Valair and Phil Giardino. This nine-year-old girl is battling a difficult cancer diagnosis and fighting each and every day.
Falmouth Art Teacher Spreading Joy With Hundreds of Painted Rocks
One painted heart on a sign post outside Karyn Phares' home in Falmouth turned into hundreds of hearts painted on rocks that now live across multiple states.
More From WFHN-FM/FUN 107