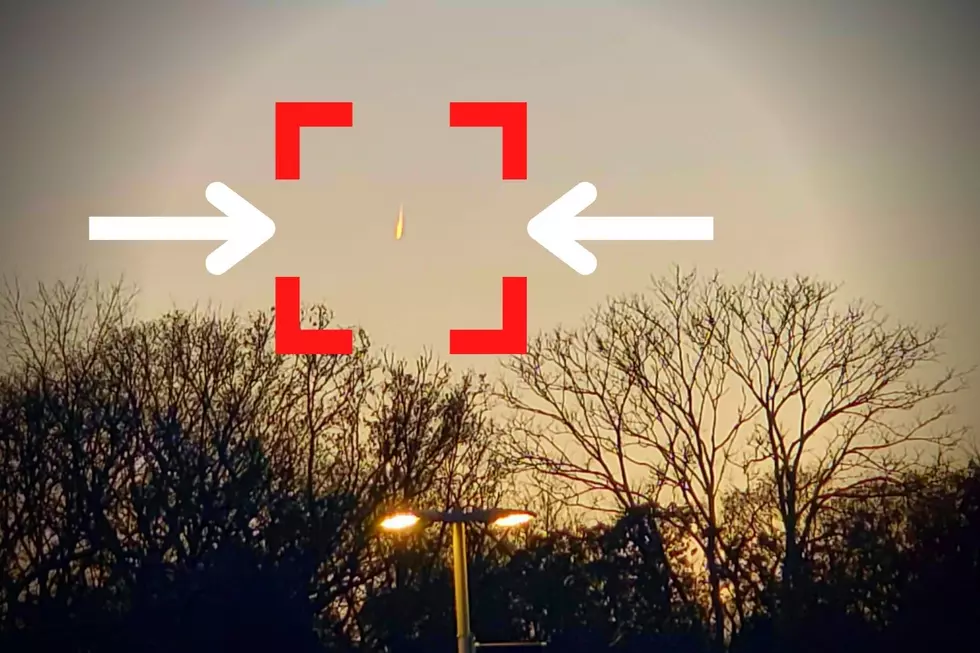 Westport Woman Films Mysterious Fireball Falling From the Sky [VIDEO]
Courtesy Meaghan Ferraz
Serious question: Why is no one talking about the unidentified falling object seen falling in the sky over Westport this week?
On Nov. 9, right around 4:45 p.m., a Westport woman captured what appears to be a fireball of sorts or something with a heavy smoke trail descending, straight down toward Earth. Meaghan Ferraz was attending an open house at the new Westport Middle-High School with her daughter Emily when she noticed something "falling out of the sky on fire."
"Does anyone know what this is?" She asked me in a Facebook message. "Meteors typically look horizontal-like and not straight down."
The video you're about to watch was shot from the front of the school looking west toward Route 88 and the former Westport High School on Main Road
"It was def something, but I didn't see anything on the local Westport Facebook pages," Ferrez said. "It looks like maybe it's far out over Adamsville or even the Westport Harbor."
What's bothering me is that the line of descent is vertical with absolutely no horizontal curve or angle. Whatever it was, it seemed to be plummeting fast.
What's strange is that it seems like something everyone would be talking about (surely more people saw it), yet I've only heard about it from a single person. Right place at the right time? Perhaps, but this is something I've never seen before either.
There has been a lot of chatter concerning the Taurids and Leonids meteor showers taking over the sky this month, so perhaps this was an early arrival?
Your guess is just as good as mine, so if you have any idea what this falling object may be, email Gazelle@Fun107.com or shoot Michael and Maddie a message on the Fun 107 app.
LOOK: 31 breathtaking images from NASA's public library
In 2017, NASA opened the digital doors to its
image and video library
website, allowing the public to access more than 140,000 images, videos, and audio files. The collection provides unprecedented views of space.
Stacker
reviewed the collection to select 31 of the most breathtaking images, including the first from the James Webb Space Telescope. Keep reading to see these stunning images, curated with further information about the captured scenes.
LOOK UP: Recent UFO Sightings on the SouthCoast
There are frequently things that can't be explained in the skies above the SouthCoast. The
National UFO Reporting Center
keeps a database of all of the reports of unidentified flying objects that are submitted by those who see them, and you can see just how often they appear right above our own heads.
More From WFHN-FM/FUN 107