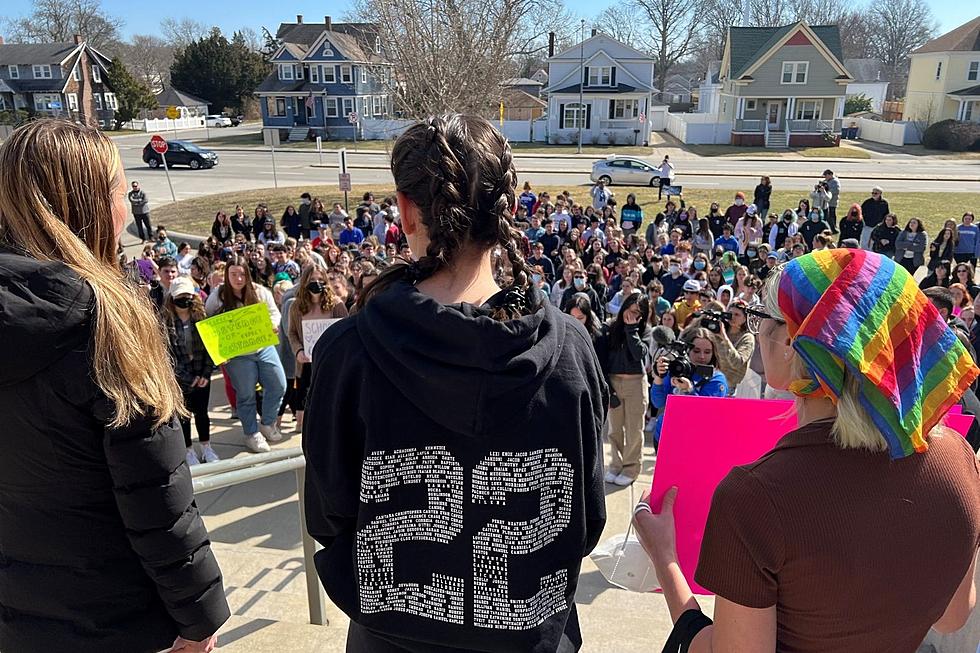 SouthCoast Students Walk Out in Protest of Florida's 'Don't Say Gay' Bill
Michael Rock/Townsquare Media
At least two SouthCoast schools participated in the National Queer Youth Walkout Friday afternoon. Fairhaven and Old Rochester Regional high schools saw students walk out the front doors of their buildings for the pre-planned time of 1 to 1:20 p.m.
The goal, according to the national movement's website, was to "protest the anti-queer youth attacks in the United States, and create the largest queer youth-led walkout in history." It comes on the heels of what has become known as the "Don't Say Gay" bill being approved by the Florida House and Senate.
ORR Creates Inclusive Space
The administration at ORR made parents aware of the walkout on Thursday night, stressing that the school district remains apolitical. 
"As a school district, we remain neutral on the political viewpoints expressed by students while staying clear of promoting political views of any kind."
The school worked with student leadership to find a safe, supervised location on campus for the walkout.
"ORRHS maintains students' rights to freedom of expression provided it does not cause disruption or disorder to the educational process within our school," the administration wrote.
Strong Support in Fairhaven
Meanwhile, in Fairhaven, a similar scene played out at the high school as students and staff walked out at 1 p.m. in support of LGBTQ+ rights "in response to the recent legislation in Florida and Texas that is impacting students."
Students in every grade at the high school were given the option to walk out.  A faculty member led with opening remarks, then the president of the Gay-Straight Alliance, Samantha Brodeur, thanked the students for electing to walk out. 
"It's just been such an overwhelming amount of support," Brodeur said. "More than we thought. It's so important to know that everybody is included."
Students held American flags and rainbow flags. Some held signs that read, "Gay is not a bad word," "School should be safe for everyone," "Be Yourself" and "It's OK to be gay."
'Don't Say Gay' Bill
The Parental Rights in Education Bill recently passed the House and Senate in Florida. It awaits the signature of Ron Desantis. The bill, referred to by critics as the "Don't Say Gay Bill," would, in part, prohibit classroom discussion about sexual orientation and gender identity in certain grade levels, and would allow parents to sue school districts found to be in violation.
LOOK: What major laws were passed the year you were born?
Data for this list was acquired from trusted online sources and news outlets. Read on to discover what major law was passed the year you were born and learn its name, the vote count (where relevant), and its impact and significance.
More From WFHN-FM/FUN 107