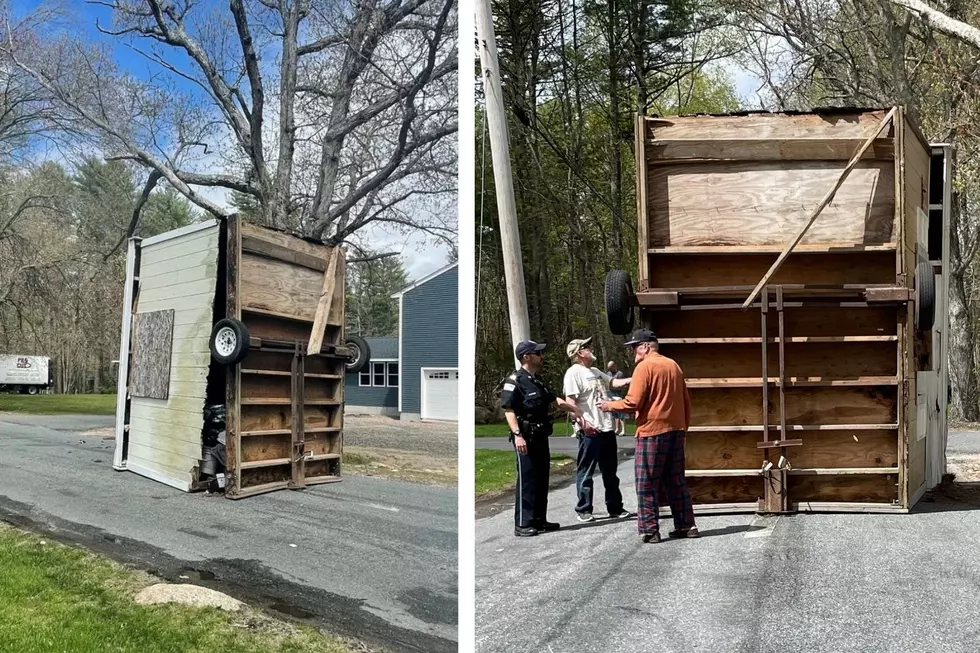 Freetown Police Find Mysterious Shed-Trailer Thing in the Road
Courtesy Freetown Police Department
FREETOWN — Freetown police are looking for answers after a mysterious wheeled shed-type object was left in the middle of a road on Sunday.
A post from the department on Facebook noted that officers responded to an obstruction on Flagg Swamp Road at around 1:53 p.m. Sunday.
There they found that a homemade shed/trailer was left abandoned in the middle of the road, blocking most of the way.
In the Facebook post, the department called the incident an "anomaly."
Police said they believe the person responsible was heading into Freetown from the Dartmouth line in a white pickup truck.
A Freetown police spokesperson could not immediately be reached to explain what exactly the trailer-shed-thing is, or if anything was found inside.
Anyone with any information on the wheeled shed-trailer-thing is asked to contact  Freetown Police at 508-763-4017 or email Officer Christopher Medeiros at cmedeiros@freetownpolice.org.
Simmons Mill Pond Trail in Little Compton Is the Perfect Excuse to Get Outside
Take a walk through the thick settled woods of Little Compton that will take no more than an hour from your busy lives.
10 Great Daycations a Short Drive From the SouthCoast
Don't let high gas prices and inflation spoil your summer plans. There are plenty of great daycation spots within driving distance of the SouthCoast for you to enjoy.
More From WFHN-FM/FUN 107