'The Voice' Recap: Brian Scartocci + Avery Wilson Are Standouts in Blind Auditions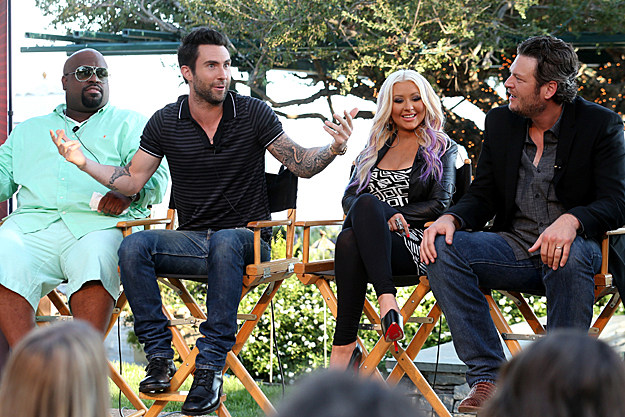 Tonight (Sept. 17) marks the beginning of week two of the blind auditions for 'The Voice!' And while we're always ready to welcome back Christina Aguilera, Cee Lo Green, Blake Shelton and Adam Levine into our living rooms on a daily basis (our bedroom more specifically for Levine), we've set the bar pretty low after last week's just so-so talent. Though there were a few standouts like Trevin Hunte and his incredible rendition of Beyonce's 'Listen,' we're hoping for a few blowouts this week.
After last week's three, yes, three, episodes, the teams are stacked up as follows:
Christina: 7 vocalists
Adam and Blake: 5 vocalists each
Cee Lo: 4 vocalists
Melanie Martinez: The 17-year-old decided on a stripped down version of Britney Spears' 'Toxic,' complete with her own guitar and tambourine playing (which she played between her feet). Her vocal stylings were reminiscent of Bjork, but she only managed to get Adam, Cee Lo, and Blake to turn around. Did Christina not turn around because it was a Britney song, and we didn't want a Tony Lucca-gate part two? Aguilera admitted that after she saw the three guys turn around she just wanted to sit back and let them battle it out, so maybe it was a Britney thing, but who knows for sure. Martinez picked Adam, bringing his number of vocalists up to six. [WATCH HERE]
Brian Scartocci: The 26-year-old single dad tugged at everyone's heartstrings after he discussed the difficulties of his marriage and how he has been raising his two young children alone. Scartocci opted for Stevie Wonder's 'Isn't She Lovely,' which Wonder wrote for his daughter, and sang it so well and with so much style that Adam even compared him to the legend after he turned his chair around, but appreciated that he didn't perform it the way Wonder does. After seeing Levine turn, Shelton turned his chair around, and was so desperate for Scartocci to choose him as a coach, he started listing off things they had in common (outfit of jeans and a vest, the fact that they both had souls, etc). Cee Lo was the last to turn around and sensed that he was a father based on his song choice and how naturally cool he sounded, and yet Christina again let the boys duke it out, which is unfortunate since she missed out on a talented singer. Scartocci also picked Levine, whose number of vocalists continues to rise. [WATCH HERE]
Beat Frequency: Natasha and Sean are a husband and wife duet who go by the name Beat Frequency. The duo chose 'E.T.' by Katy Perry and Kanye West, and while they sounded good most of the time, especially when they harmonized together, she was a bit pitchy at times and it felt more like karaoke than 'Voice' audition. Aguilera was the sole coach to turn her chair around and was thrilled to have the two, whom Levine called "the best duet so far," on her team. However, Natasha and Sean need to change up their look – the matching cobalt blue, crimped hair, and sunglasses was all so 90′s, they could've fit right in with the band Aqua and would've succeeded with their own version of 'Barbie Girl.' [WATCH HERE]
Liz Davis: Davis is your typical young southern belle with her blonde locks and slight country twang of a voice. She quit college to pursue music, and decided on 'Here for the Party' by Gretchen Wilson. Aguilera and Levine turned their chairs around almost instantaneously, and we immediately scoffed at Levine's pervy smirk as he stared at her legs, but that's just because we were jealous. Her high energy performance was refreshing, and she was cute as she worked the stage and showed off her vocal ability, so thankfully, at the last minute, Shelton turned around, and handed in his country card, showing Davis his ACM award for Male Vocalist of the Year. Davis chose Shelton as her coach, the first pick up for him of the night. [WATCH HERE]
J.R. Aquino: Aquino traveled all the way from Alaska to audition for the show. The aspiring musician has over 45 million views on YouTube, and is in the list of the Top 100 subscribed musicians on the site. His audition of Bruno Mars' 'Just the Way You Are' went over quite well for the coaches, seeing as Aguilera, Levine, and Green all turned their chairs around. The high falsetto of his voice resonated with Levine, and his pitch was nice, and despite sounding weaker towards the end of the song due to his excitement of seeing the coaches turn around. Aquino chose Cee Lo, who pushed his button at the very last second. [WATCH HERE]
Nicholas David: The dad of two sons has had a long and hard journey in the industry, but he hoped his audition would offer hope to those watching. His rendition of 'Stand By Me' was good, but his stage presence was lackluster. David never opened his eyes as he strummed his guitar along to the song, and despite the unique quality and distinctiveness of his voice, it just didn't go very far. Perhaps that's why Cee Lo was the only coach to turn around. [WATCH HERE]
Alessandra Guercio: A fellow Italian Brooklyn girl that shares our name? We're hooked. The 17-year-old attends Fiorello H. LaGuardia High School, aka the 'Fame' school, and while her voice sounded great in the pre-interview, her voice on stage during Miley Cyrus' 'The Climb' was a bit shaky and off at times, despite the nice quality of it and the fact that she had control. Both Adam and Cee Lo turned around, but all the judges were shocked to find out Guercio was only 17. She chose Adam, the man of the night apparently, who was excited because he'd be able to mold her voice a bit. [WATCH HERE]
Avery Wilson: The final audition of the night belonged to Wilson, who blew the roof of the joint with his version of Usher's 'Without You.' Comparable to Usher's own voice, Wilson had a smooth tone to his voice and got the crowd on his side as he egged them to participate in dancing. All four coaches turned around during the 16-year-olds audition, and Levine made sure to mention that it was the most spirited reaction from the crowd all night. Ultimately, Wilson decided to go with Cee Lo as his coach, thus bringing an end to day four of the blind auditions! [WATCH HERE]
Auditions we didn't see:
Adanna Duru: Team Adam
Kelly Crapa: Team Blake
Paulina: Team Christina Source:
'The Voice' Recap: Brian Scartocci + Avery Wilson Are Standouts in Blind Auditions
More From FUN 107 - The Southcoast's #1 Hit Music Station!