Massachusetts Talks About Not Turning Back Clocks [POLL]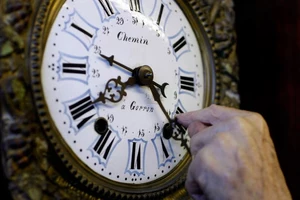 Discussion begins today on Beacon Hill about what it would be like NOT to turn back the clocks in the fall.
According to WCVB 5, an 11-member commission will take part in weighing the economic and health impacts the state will face while staying in Eastern Daylight Time year-round.
Massachusetts weighs doing away with winter time shift https://t.co/ep5qlufjrC

— WCVB-TV Boston (@WCVB) January 11, 2017
We shift from Eastern Daylight Time to Eastern Standard Time every year on the first Sunday of November and then switch back to Eastern Daylight Time on the second Sunday of March.
Daylight savings was first implemented as a way to save energy, but some say there are very few practical reasons to keep it in play.
People have said that the shift make days seem shorter and supporters say that ending the change in time would create darker mornings.
What do you think should happen?
Additional Reporting By: Mikaylee McEwan