Cher Lloyd to Tour This Fall With Fifth Harmony, Who Covered Her Song [Video]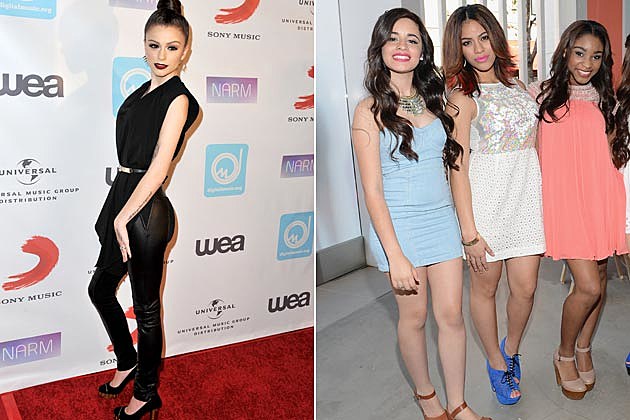 Cher Lloyd will return to the U.S. in September on her I Wish Tour. She will be accompanied by all-female vocal group Fifth Harmony, making it a girl power trek and one with 'X Factor' roots.
Lloyd competed on the same season of British 'X Factor' as One Direction – inexplicably, they both LOST but went on to waaaay bigger success than the artist who did win — while Fifth Harmony were assembled during Season 2 of the American version of the show. Just call it the "Simon Cowell Knows What He Is Doing Tour!"
The tour is 11 dates strong.
Lloyd is prepping her new album, while the ladies of Fifth Harmony recently covered Lloyd's summer 2012 smash 'Want U Back,' which put her on the pop music map. They actually got creative and customized the cover, mashing it up with another Lloyd single in the form of 'With Ur Love.' It was a clever reimagining and the harmonies are sweeter than a cherry pie with Reddi Wip topping. Nice work, gals.
You can watch that below after the tour dates.
Cher Lloyd x Fifth Harmony? We are so there!
Cher Lloyd + Fifth Harmony I Wish Tour 2013
9/ 6 — Washington, D.C. | Fillmore
9/ 7 — New York, N.Y. | Best Buy Theater
9/ 8 — Philadelphia, Pa. | Electric Factory
9/ 11 — Montreal, QC | Corona Theater
9/ 13 — Toronto, ON | Phoenix Concert Theatre
9/ 14 — Cleveland, Ohio | House of Blues
9/ 15 — Chicago, Ill. | Vic Theatre
9/ 16 — Minneapolis, Minn. | First Avenue
9/ 18 — Denver, Colo. | Ogden
9/ 22 — San Francisco, Calif. | Regency
9/ 23 — Los Angeles, Calif. | Club Nokia at L.A. Live
Watch Fifth Harmony Cover Cher Lloyd Source:
Cher Lloyd to Tour This Fall With Fifth Harmony, Who Covered Her Song [Video]
More From FUN 107 - The Southcoast's #1 Hit Music Station!